Wear Your Emotions
Tandi Fashion allows our clients to dress to please themselves allowing our customers to wear their emotions at certain moments. Our clothes are made from a woven fabric sourced from Tanzania. The garments are crafted from an East African fabric called kanga. A kanga is a lightweight East African cloth. It is known for its bold designs and the messages printed on it. The Swahili saying is usually printed on the bottom of each cloth. These sayings include proverbs, slogans, and aphorisms. It is common knowledge in East Africa that some people wear these kangas' to deliver a certain message through the printed message. The messages are an important part of the history of the fabric. The Swahili message is as important as the print of our clothes and has been kept and positioned at the bottom of each garment. 
The Story
The idea goes back to my childhood and growing up in awe of my mother's beauty. She spent her childhood in Kenya. Her style was influenced by East African colours and tradition, but she wore it in her own individual western way. She brought to London the popular colourful fabrics from East Africa, the Kanga forms the basis for my design.
The fabric is from East Africa, however, our clothes are produced in London.  Just like many people who live in a city but have heritage that hails from elsewhere. 
Tandi garments.. Derived from East Africa but born in London.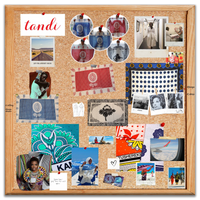 Running a Small Business During Lockdown
Giving
Tandi works with nonprofits, and organisations dedicated to HIV-prevention and education. As part of the global efforts set by the United Nations Sustainable Development Goals, Tandi takes part in goal number 3 to end the epidemic of Aids, tuberculosis and malaria. Tandi Fashion works with UK health charities that focus on HIV prevention and support HIV positive women
Tandi offers paid internships in the UK to black and minority ethnic (BME) women that are keen to gain experience in the fashion industry. Educate, empower, support and lift-up women is key.
Tandi supports mothers2mothers
m2m employs and trains HIV-positive women to deliver health services, advice, and support to women and their families at health facilities and in local communities. From an initial focus on eliminating mother-to-child transmission of HIV, m2m has expanded into five related areas to deliver benefits for women and their families at all stages of life. As well as a continued focus on HIV-prevention and education, m2m's services now also include early childhood development, paediatric care and support, and adolescent mentoring.